Posted on
By Brett Galbraith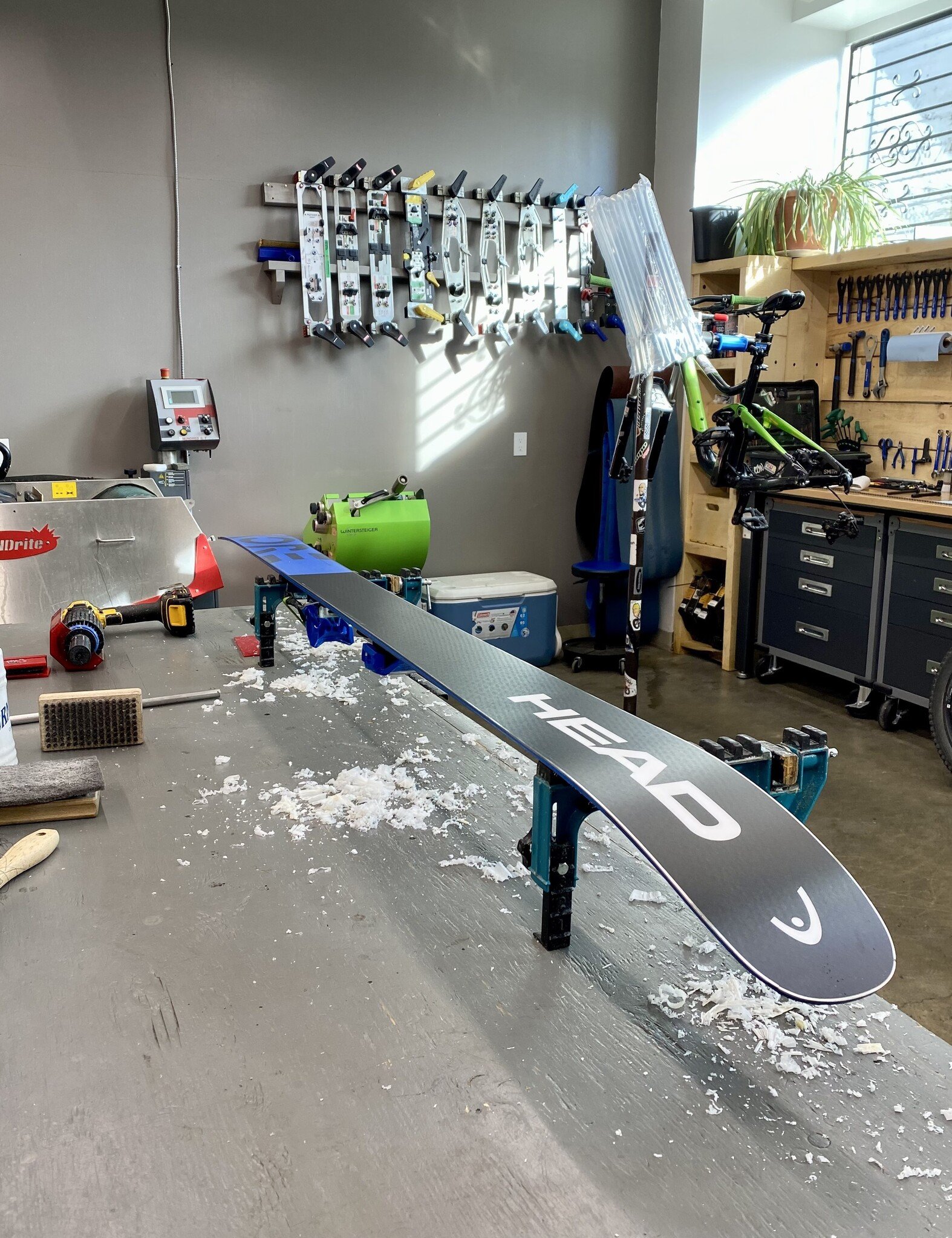 Why do I need to have my skis/snowboard tuned? How can I tell if my skis/snowboard need to be serviced? What should be done during a tune? These are questions you may have had at one time while sitting on the chairlift or dusting your gear off before opening day. We've got the answers and more!
When you purchase that brand new super cool ski, they come with a factory tune where the manufacturer ensures the base of the ski is perfectly flat with some type of base structure, the edges are sharp with the correct base edge bevel, side edge angle and a factory wax. That factory tune will feel amazing on your first days of skiing and give the best performance that ski has to offer but every run you ski you're going over different types of abrasive snow conditions: dirty snow, rocks (hopefully not many) and branches/stumps which all cause some level of abrasion on your skis. Over time that abrasion will start to show on the base and edges of your skis and will start affecting the performance of your skis.
This is where the tune up comes in.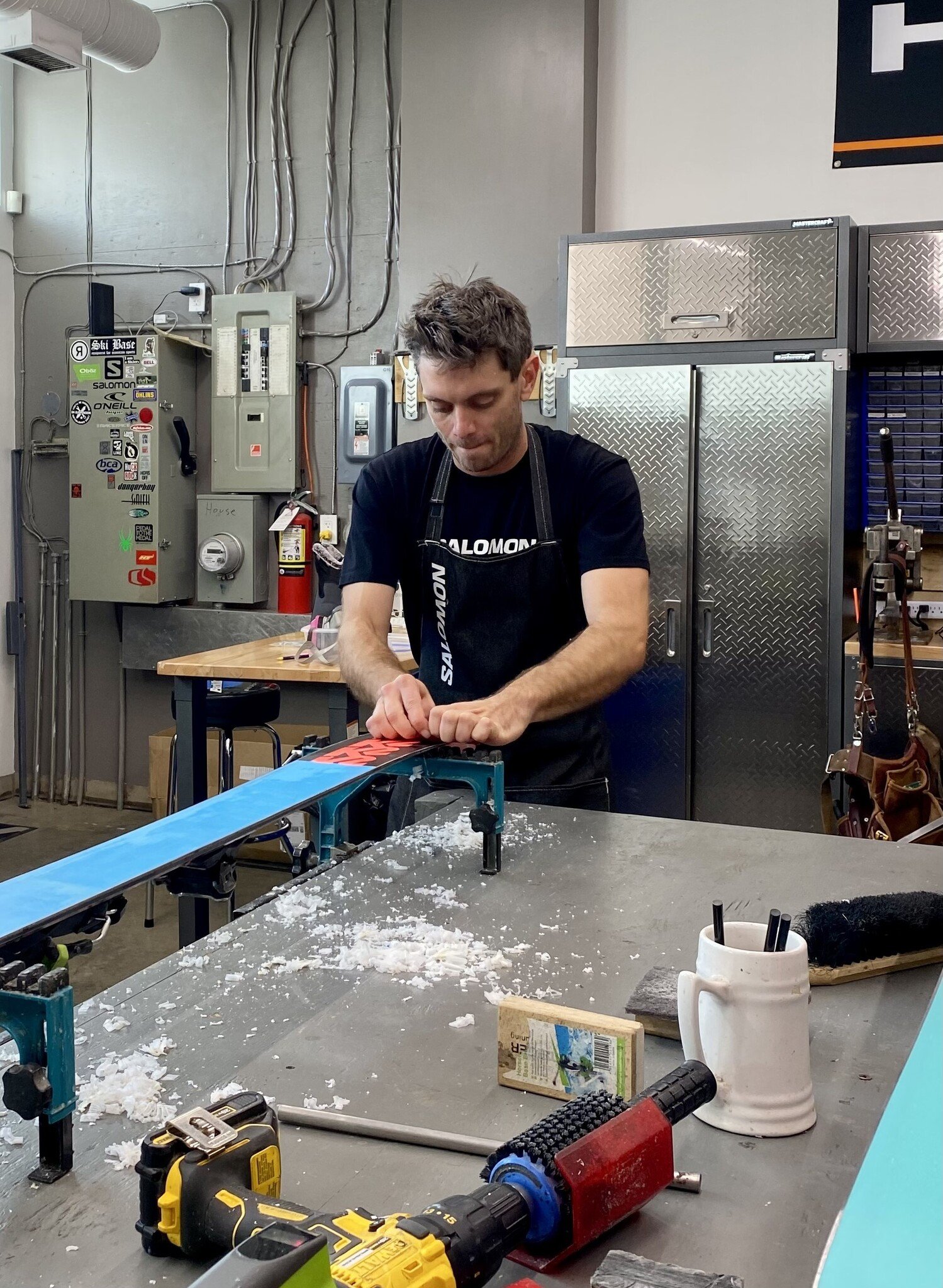 When looking at the base of your skis there are some signs to look for to indicate you may need service:
Scratches small or big in the base. These will cause extra drag on the snow and disrupt the film of moisture needed to slide on snow.
Rust spots or burs on your edges. these will cause inconsistent edge grip both extra grip and not enough and extra drag on snow.
Core shots; scrapes deep enough to expose fiberglass or core material. These will cause the same issues as scratches with the addition of allowing moisture into the core of the skis which can cause more serious damage.
Dry base (small white fuzz). This will cause extra drag on the snow and disrupt the film of moisture needed to slide on snow.
Odd wear across base (shinny spots that appear like bumps). This indicates the base is not flat and can cause inconsistent turn initiation or release.
During a full service your ski/snowboard will go through multiple steps to correct all these issues, these steps include:
Base repair. We use P-tex and other repair materials to fill small and large scrapes or core shots.
Base Grind. We pass the ski/snowboard over both belts and a stone grinder to smooth, make flat and level the base with the edges.
Side edging. setting the correct side edge angle and sharpening while removing any burs or surface rust.
Base edging. setting the correct base edge bevel and sharpening while removing any burs or surface rust.
Base structure. passing the skis/snowboard over the stone grinder setting a specific structure or pattern in to the base.
Hot wax. Ssing a iron set to the correct temperature for the wax being used, we melt wax onto the base of the ski and then use the iron to warm the base material up to absorb the wax.
Finishing. Scraping off the excess wax followed by multi-step brushing to create a consistent finish. We detune edges at the widest point of all mountain skis to ensure smooth edge engagement and release.
Once all these steps are completed your skis should feel just like they did when you first purchased them!
                                                                   

 
Service should typically be done at least once a season with a likely hot wax or two in between services, snow conditions and use will dictate the frequency or required service. There is a whole science behind your skis/snowboard sliding on snow and feeling fast or slow, but we will save that for another time.
If your skis aren't feeling as fast as you'd like or not gripping on the ice giving the confidence you need, come see one of our staff in the service department. We can inspect your gear, advise you on what may be causing your issues and recommend a solution.